In Ireland, after Samhain was Christianized to become All Hallow's Eve and the Feast of All Hallows (Saints), it didn't much change the menu (if one had the food). All Hallow's Eve became a day of abstinence, so no meat was allowed, but that did not exclude enjoying apples, nuts, and apple cake.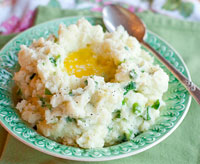 After the potato came to Ireland, the starchy vegetable became part of the tradition. Colcannon—potatoes mashed and mixed with chopped kale or green cabbage and onions and cooked in a skillet—and champ—mashed potatoes, sweet milk, and chopped chives or onions—both eaten by dipping spoonfuls into a well of butter, also became favorites. Boxty pancakes were made of grated raw potatoes,baking powder, salt, egg, and enough milk to make a pancake-like batter. These were served hot and well buttered and sprinkled with finely ground sugar. The same recipe could be made into scones called farls and baked on a griddle.
Even good Christians evidently still respected the ancient powers. Neither blackberries nor apples should be picked after All Hallows as pookas were believed to spit on them on what once was Samhain. Others claimed it was devil who cursed the fruits. The old tradition of leaving food out for the fairies or the dead was still observed in many places. (Often a plate of champ with a spoon set at the foot of the nearest hawthorn or whitethorn or at the gate entrance to a field).
I wouldn't try any of these dishes as treats to drop into a trick-or-treater's bag, but you might enjoy making them part of a holiday meal. Recipes abound online for all.
[Most information taken from Land of Milk and Honey: The Story of Traditional Irish Food and Drink by Brid Mahon (1998, Merdier Press).]
Last chance to enter the Halloween: Magic, Mystery & the Macabre giveaway: midnight ET tonight!