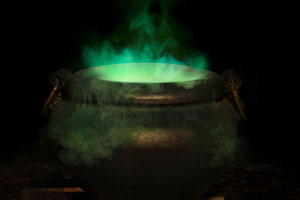 I don't feel much like celebrating Halloween today. Maybe I should chug down whatever is brewing in this cauldron.
Or, if I had all the ingredients, perhaps I could artificially cheer myself up (at least until the hangover hit) with some real Halloween "spirits." But…never a good idea to drink and sit in desk chairs armed with a keyboard. Dangerous!
However, when the time is right, maybe these recipes will bring you some holiday cheer:
Zombie
Ingredients:
1 oz. light rum
1 oz. gold rum
1 oz. dark rum
1 tsp. 151 rum
1/2 oz. apricot brandy
2 oz. orange juice
1 oz. pineapple juice
1 oz. lime juice
1 tsp. sugar
1 cup crushed ice
Garnish:
Orange Slice
Maraschino Cherry
In a blender, combine all ingredients except the 151 with crushed ice. Blend at a high speed until smooth and pour into a Collins glass. Float the 151 Rum on top and garnish with the orange slice and maraschino cherry.
* * *
Vampire's Kiss
Ingredients:
2 oz. vodka
1/2 oz. dry gin
1/2 oz. dry vermouth
1 tbsp. tequila
Pinch of salt
2 oz. tomato juice
ice
Shake with ice then strain into old fashion glass filled with ice.
* * *
Halloween Sunset
Ingredients:
3 ounces tangerine juice
1 1/2 ounces white rum
3/4 ounce grenadine
ice
Combine juice and rum in a tall glass filled with ice. Top with grenadine. Serve.
* * *
Pumpkin Pie
Ingredients:
1 oz.vodka
3/4 oz. pumpkin pie filling
1/2 oz. Kahlua
2 oz. milk
cinnamon
Pour all ingredients into a cocktail shaker filled with ice. Shake until cold and pour into a cocktail glass rimmed with cinnamon.
* * *
Of course, if you really want to get in a Halloween mood, you could be reading Halloween: Magic, Mystery and the Macabre.