Check out these cute (free) printable Halloween decorations from Mr. Printable. My favorite are these paper wraps for glasses that transform them into spooky candleholders, but there are others, too: for the more ambitious, a template for a haunted dollhouse with peg "dolls"; printable activities for kids; batty treat bags; and more.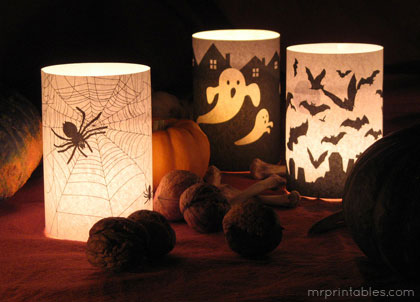 Tatertots & Jello have a printable Halloween "eye chart" they suggest using on pillows, but I think they'd be better on walls. Kim at All Things Simple has three versions of simple-but-eye-catching printable "word art".
Do you have any favorite new Halloween "paper" tricks you'd like to share?