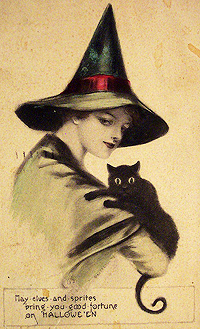 A couple of years ago I had a lot of fun blogging through October on the Prime Books site about my Halloween anthology that reprinted some great stories for this season. This year I have a new seasonal anthology: Halloween: Magic, Mystery & the Macabre with 18 super original stories. So I thought this would be a great way to support the book and also introduce my (still-in-progress) website.
And I will make it worth your while! From now until midnight (US/ET) October 22 everyone who "shares" the news about Halloween: Magic, Mystery and the Macabre will be entered in a giveaway: if you tweet about the book, that's an entry! If you share Halloween: Magic, Mystery and the Macabre on Facebook, that's an entry. Share on your blog? Yup, that's another entry. Even following me (#paulaguran) on Twitter will be an entry. (Sorry, would be unfair to those on Facebook who are already "friends" to include new friends.) The more you share the more chances you get to win. No, the people with the most shares don't win…they just have more chances to win
Win what? Well, I have at least six print copies (maybe more) of the book to give away and I can throw in ebook versions too. I'll see what other seasonally appropriate anthologies I've done could giveaway, too. But that won't be all. I'll add more prizes (other than books) along the way.
How do you enter? Just comment on the official post and tell me about your sharing.
Plus, I'll be providing all sorts of Halloween fun every day for The 31 Days of Halloween. We'll start today with just the introduction to Halloween: Magic, Mystery and the Macabre: New Boo! (it also links to the much grander "history of Halloween" introduction to Halloween, too).