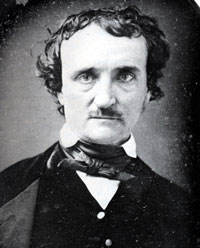 Today marks the 164th anniversary of Edgar Allan Poe's death; a demise still shrouded in mystery. If you can make it to New York City, there's an exhibition at the Morgan Library and Museum, "Edgar Allan Poe: Terror of the Soul," that includes Poe daguerreotypes and other images; manuscripts, letters and first editions, and even a fragment of Poe's original coffin. It spotlights the author's work as a poet, fiction writer, and critic. (Runs through 24 January 2014). Poe's work as a critic and editor is at the exhibition's center "because that's what sustained him, "according to the show's co-curator Declan Kiely.
As for our own little tribute, here's an update of an article I did seventeen years ago:
Edgar Alan Poe: Forevermore
Edgar Allan Poe is credited with the transformation of the short story from anecdote to art. His literary criticism, as well as his stories and poems, have profoundly influenced literature. With "The Murders in the Rue Morgue" and other works he invented the detective story as well as the modern mystery. He has been called the father of science fiction—and even if that particular paternity is debatable, he did fill his writing with the scientific theories of his day.
Despite these contributions, we now best remember Poe as an author who combined the intensely psychological with the gothic, the rational with literary romanticism, to create the foundation of modern horror.
And, for better or worse, he was the first well-known American writer to attempt to support himself financially by his writing alone. Trying to make a living by his pen alone resulted constant struggle for survival.
Poe was the first to use the presentation of supremely horrific moments to frighten the reader. His stories show the dead coming alive and the living suddenly struck dead. According to Robert Gidding in his essay, "Poe: Rituals of Life and Death," the author's horror lay "in the animation of death. In his imagination, and in his writer's hands, the terror lies in the vitality of death." Writers of Gothic horror had, of course, used the fear of death in their writing. The suspense came from the anticipation of death. Poe went beyond the known terrors and created fright by bringing the dead to life; by mistaking the living for the dead; and by celebrating death as a ritual unto itself.
In "The Facts of the Case of M. Valdemar" and "Some Words with a Mummy," the living and the dead literally converse. "The Cask of Amontillado" deals with an elaborately planned and executed death. In "The Pit and the Pendulum," he renders complicated machinery dedicated to ritualized death; death itself is personified and takes a ceremonial stage in "The Masque of the Red Death."
Likemodern writers, Poe also exploited the scientific ideas of his time: Laced throughout his work are references to the "new" science of archeology, explorations into spiritualism, Mesmer's theories of hypnotism and animal magnetism, the beginnings of modern psychiatry, and the medical profession's search for "physical death." Poe in the nineties would, no doubt, be dealing with computers, alien visitation, the psychology of serial killers, and other hot topics of the day.
He also drew on his own psyche—his personal fears, frustrations, tragedies, and failures—to craft his tales. Poe was, perhaps, less frank about his own nightmares and macabre visions than a writer these days might be and this is understandable considering the context of his times. But it's easy to picture a twenty-first century Poe purging his demons in interviews—or maybe on his blog—and perhaps bolstering his mental health as a result.
When you come right down to it, Poe had a truly modern instinct for public relations. Intentionally or inadvertently, he surrounded his persona with myth. After his death his literary executor, Rufus Griswald, invented and perpetuated more stories to serve his own purposes. The most scandalous tales painted the picture of a pedophile, necrophiliac, alcoholic, and drug addict, both impotent and oversexed—an immoral, decadent, worthless wreck. Griswald would surely have offered numerous "exposes" to the tabloid TV had it been available in his day.
If the mythology was disturbing, the truth was wrapped in a modern sort of drama as well. Poe was born in Boston on January 19, 1809, to actor parents. By 1811 his father (perhaps jealous of his wife's success) had left the family and his mother had died. Three-year-old Edgar was taken in by John Allan, a Richmond, Virginia, merchant.
At 17 he entered the University of Virginia, where he ran up a lot of gambling debts and left after only a year. Following an unhappy stint in the military, which included an apparently self-contrived dismissal from West Point for disobedience, he set out to earn a living by his literary craft.
In 1832, the Philadelphia Saturday Courier published five of his stories—all comic or satiric—and in 1833, "MS. Found in a Bottle" won a $50 prize from the Baltimore Saturday Visitor.
Young Poe was on his way. In 1835, at age 25, he became editor of the Southern Literary Messenger in Richmond; a year later he married his cousin Virginia, 13.
Like many of today's writers, Poe found it tough to keep jobs and make ends meet—even when his work was critically acclaimed. At the Messenger, for instance, his devastating reviews of the authors of the day increased circulation, but offended the owner. The January 1837 issue announced Poe's withdrawal as editor but also included the first installment of "The Narrative of Arthur Gordon Pym," as well as his reviews and poems. Though Poe eventually succeeded in formulating influential literary theories and mastering his favorite forms—musical poems and short prose narratives—he was able earn only a moderate livelihood.
For Poe, his wife's death in January 1847 was a heavy blow. He continued to write and lecture but less than three years later he was found unconscious on a Baltimore street. He was taken to the hospital and, after hallucinating and exhibiting other disturbing neurological symptoms, died on October 7, 1849. A brief obituary in the Baltimore Clipper reported that Poe had died of "congestion of the brain." The true cause of death is unknown, but theories abound—and still occasionally make the news or provide fodder for fictionists.
For those who consider Poe a now-quaint Gothic, or dismiss his work as antiquated "bad writing," I offer a simple experiment: Gather together some screen-oriented, short attention-spanned children and read them (perhaps with some flamboyance and explanation of vocabulary) "The Tell-Tale Heart." It still works. They will hear the beating of the hideous heart and forever picture the old man's "eye of a vulture."
And, my dears, I promise they will ask for more.