Around the turn of the 20th century and into the 1920s, Halloween postcards were popular. In that era, Halloween parties were often an excuse for young adults to get together. Popular games often involved excuses for mingling with the opposite sex (apple bobbing, for instance) or, mostly for females, fortunetelling about one's true love. It was almost more of what one might expect of a spooky version of Valentine's Day.
Here's one encouraging the boy to blow out a candle before the girl bites an apple…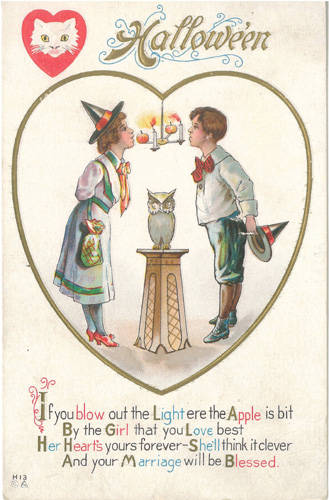 The girl here is tossing an apple peel over her shoulder. If it twists into a letter, that is the initial of her true love…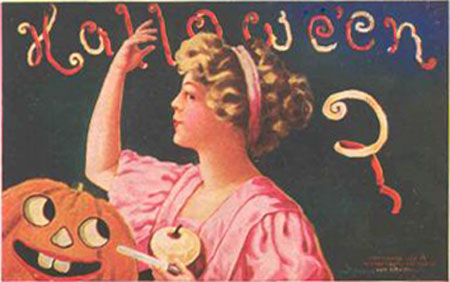 And this one shows a young lady whose future mate in seen in her mirror…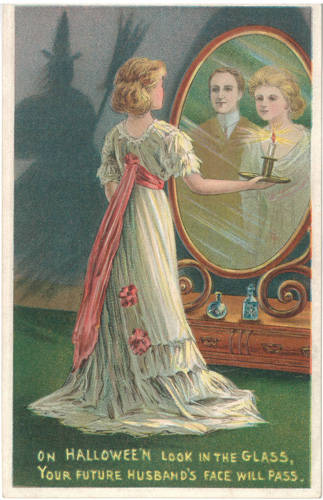 This much younger girl is also looking for such a face in a hand mirror…but the black cat seems ready to obscure her vision by leaping into her lap!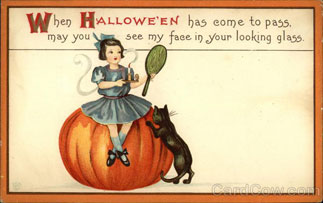 There are some love stories… of sorts… in Halloween: Magic, Mystery & the Macabre. Don't miss them!