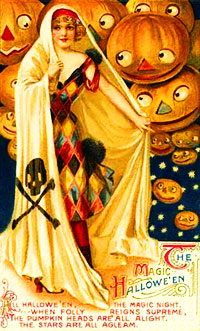 This morning, on NPR, the ever-erudite Neil Gaiman answered when asked if—like his Sandman character Morpheus—he directed people's dreams:
We all do that, every writer … one of the titles of the Sandman—and it's a title that I stole from Lou Reed, who died so recently, from a song—is the Prince of Stories. And I think any writer worth his or her salt gets to be the Prince of Stories, gets to be the Princess of Stories.

We get to direct people; we get to give them waking dreams. We get to take them places, do magical things to their heads, and, with any luck, send them back to the day that they came from slightly changed, and not the person that they were when we got our hands on them and said, "I want to tell you a story."
I have no ability to make people dream. If anyone can work magic it is you writers (and artists and musicians and other creators) and I'm privileged to be a part of sometimes being able to point out, convey, deliver your magic to readers. And that's what Halloween is about, really: possibility, transformation… magic.
Happy Halloween.