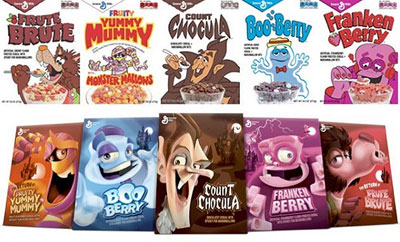 NPR reports General Mills' line of "Monster Cereals"—Count Chocula, Boo Berry and Franken Berry—are back for a limited time only. Originally marketed in the early '70s, the company decided in 2010 they would only be available during the Halloween season. This year, Frute Brute (formerly "Fruit Brute," a werewolf fronted multi-fruit flavored cereal with lime-flavored marshmallows) and Fruity Yummy Mummy (about the same but with vanilla bat-shape marshmallows) are also available. (Frute Brute was discontinued in 1982; Yummy Mummy in 1992.) It's the first time all five of of the monster cereals have been available at the same time.
ABC 23 (via Fox News) reported the cereals returned Sept. 30, and will be on sale until Halloween. But the food manufacturer will reportedly only sell the sugary cereals in retro boxes at Target stores, while offering them in updated packaging at other outlets.
General Mills points out the historic heritage of their products: Count Chocula was the first chocolate-flavored cereal with chocolate-flavored marshmallow bits… Franken Berry was the only strawberry-flavored cereal on the market. In 1972, along came Boo Berry, the first cereal that tasted like blueberries. They were created following the success of Lucky Charms, which also had marshmallow bits and were a consumer favorite.Frute Brute is considered by many collectors to be the most sought-after vintage cereal box… probably because it was seen in Quentin Tarantino's films Reservoir Dogs and Pulp Fiction.
Sadly, no glow-in-the-dark stickers will come in this year's boxes.