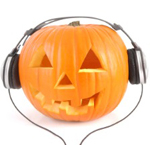 My favorite streaming source for Halloween music—(Folk Alley's five-hour stream of spooky folk music, ghost stories, murder ballads, gory tales, supernatural songs, and myths of death, witches, goblins and vampires)—is evidently not back for 2013 (at least not yet), so I've found some new (free!) streaming sources to start getting you in the musical mood for Halloween. There are plenty of lists with music, but I was looking for an actual stream, so…
Bob Boilen and Jacob Ganz of NPR's All Songs Considered did a show, "The Songs That Scare" you can hear along with a short playlist with videos with videos. But that's not a stream, so, much better, they compiled a Spotify playlist from listener suggestions. As promised, it puts aside kitschy tales of ghosts and goblins to focus on music that is truly, deeply terrifying.
Pandora also has a Halloween Stream featuring everything from "City of the Dead" from The Clash to "Wolf Girl" by The Groovy Ghoulies. They also offer Pandora's Halloween Party.
Time Magazine has Beyond 'Monster Mash': TIME Picks the Best Halloween Songs…which is pretty much what you would expect from Time, but still fun.
Halloween On Slacker combines "creepy classics, freaky film scores and eerie effects to put a chill in your bones." If you want rock—Blue Oyster Cult, Black Sabbath, Godsmack, Alice Cooper, and the like—they might light your pumpkin.
Meanwhile, don't forget to enter the Halloween: Magic, Mystery, and the Macabre giveaway!