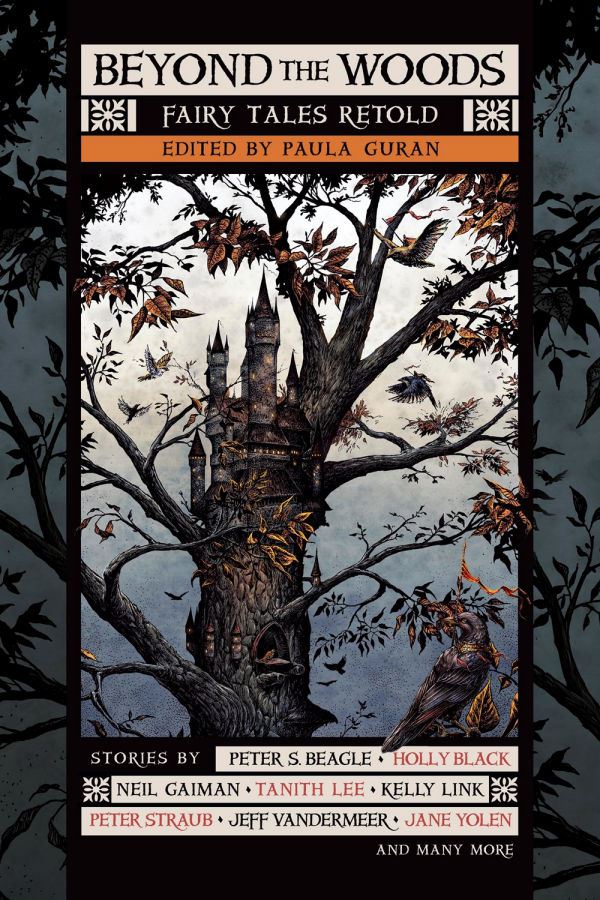 BEYOND THE WOODS: Fairy Tales Retold
Edited by Paula Guran
Night Shade Books
$15.99 paperback
ISBN 978-1-59780-838-5 
6″ x 9″ • 448 pages
JULY 2016
Once upon a time, the stories that came to be known as "fairy tales" were cultivated to entertain adults more than children; it was only later that they were tamed and pruned into less thorny versions intended for youngsters. But in truth, they have continued to prick the imaginations of all ages.
Over the years, authors have often borrowed bits and pieces from these stories, grafting them onto their own writing, creating literature with both new meaning and age-old significance. In the last few decades or so, they've also intentionally retold and reinvented the tales in a variety of ways—delightful or dark, wistful or wicked, sweet or satirical—that forge new trails through the forests of fantastic fiction.
This new anthology compiles some of the best modern fairy tale retellings and reinventions from award-winning and bestselling authors, acclaimed storytellers and exciting new talents, into an enchanting collection. Explore magical new realms by traveling with us, Beyond the Woods…
CONTENT
* Introduction: Throwing In – Paula Guran
* Tanith Lee – "Red as Blood"
* Gene Wolfe – "In the House of Gingerbread"
* Angela Slatter – "The Bone Mother"
* Elizabeth Bear – "Follow Me Light"
* Yoon Ha Lee – "Coin of Hearts Desire"
* Nalo Hopkinson – "The Glass Bottle Trick"
* Catherynne M. Valente – "The Maiden Tree"
* Holly Black – "Coat of Stars"
* Caitlín R. Kiernan – "Road of Needles"
* Kelly Link – "Travels with the Snow Queen"
* Karen Joy Fowler – "Halfway People"
* Margo Lanagan – "Catastrophic Disruption of the Head"
* Shveta Thakrar – "Lavanya and Deepika"
* Theodora Goss – "Princess Lucinda and the Hound of the Moon"
* Gardner Dozois – "Fairy Tale"
* Peter S. Beagle – "The Queen Who Could Not Walk"
* Priya Sharma – "Lebkuchen"
* Neil Gaiman – "Diamonds and Pearls: A Fairy Tale"
* Richard Bowes – "The Queen and the Cambion"
* Octavia Cade – "The Mussel Eater"
* Jane Yolen – "Memoirs of a Bottle Djinn"
* Steve Duffy – "Bears: A Fairy Tale of 1958"
* Charles de Lint –"The Moon Is Drowning While I Sleep"
* Veronica Schanoes – "Rats"
* Rachel Swirsky – "Beyond the Naked Eye"
* Ken Liu – "Good Hunting"
* Kirstyn McDermott – "The Moon's Good Grace"
* Peter Straub – "The Juniper Tree"
* Jeff VanderMeer – "Greensleeves"
* Tanith Lee – "Beauty"