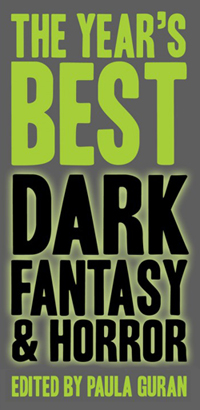 (Thought I posted this in February when I posted on Prime Books site, but evidently not…)
As the editor of the anthology series The Year's Best Dark Fantasy and Horror (Prime Books) I am reading for the 2017 edition, which will cover material published in 2016. (The 2016 edition—seventh in the series—will be published this July.)
We define "dark fantasy" and "horror" broadly; it can also include dark science fiction. Try reading the previous previous volumes or read: www.prime-books.com/intro-ybdfh2010/
Guidelines: The work must be published during the calendar year of 2016. Publishers and Editors: You need not send a physical book/issue; a PDF emailed to me will be fine. (Ebook if there's no other alternative.) Authors: Direct submissions to the editor can be made, but try to get your publisher to send the entire volume if possible. (PDF, Word doc, or RTF are preferred.) Readers: Sincere suggestions are always appreciated, just email me. Send submissions to: paula@prime-books.com, subject: YBDF&H. If a physical copy is submitted please email me for mailing address.
Deadline: December 1, 2016. If your work/publication is being published in December, please try to get it to me in some form by that date. Overall: The earlier I get the material the better.
Please post and/or pass this on to others.