…and also it is a Friday, so: Free Fiction Friday! (A bit late, but better late than…)
Today's tale is by Mary Eleanor Wilkins Freeman who was born on Halloween in 1852. As The Literary Gothic points out: "Her reputation went into decline for much of the mid-[twentieth century], for her "feminine" subjects were often dismissed by critics as simply unimportant in the context of larger world events. More recent scholarship has argued convincingly for the importance of Freeman's work, which often does feature spinster heroines or—especially in some of her more well-known ghost stories—abandoned children (this 'forlorn child' theme is widely thought to be Freeman's working out of her own feelings regarding the death, at age seventeen, of her sister). Freeman's ghost stories have only recently begun to attract appreciative critical attention…"
This one concerns a little girl ghost who cannot find her mother. Nala the Official Halloween Cat does not find this story to her liking as it involves the spectral pulling of an innocent cat's tail, but we hope you otherwise enjoy.
The Lost Ghost
Mary Eleanor Wilkins Freeman
(First published in Everybody's Magazine, May 1903)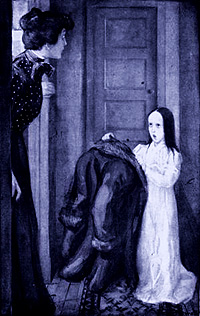 Mrs. John Emerson, sitting with her needlework beside the window, looked out and saw Mrs. Rhoda Meserve coming down the street, and knew at once by the trend of her steps and the cant of her head that she meditated turning in at her gate. She also knew by a certain something about her general carriage—a thrusting forward of the neck, a bustling hitch of the shoulders—that she had important news. Rhoda Meserve always had the news as soon as the news was in being, and generally Mrs. John Emerson was the first to whom she imparted it. The two women had been friends ever since Mrs. Meserve had married Simon Meserve and come to the village to live.
Mrs. Meserve was a pretty woman, moving with graceful flirts of ruffling skirts; her clear-cut, nervous face, as delicately tinted as a shell, looked brightly from the plumy brim of a black hat at Mrs. Emerson in the window. Mrs. Emerson was glad to see her coming. She returned the greeting with enthusiasm, then rose hurriedly, ran into the cold parlour and brought out one of the best rocking-chairs. She was just in time, after drawing it up beside the opposite window, to greet her friend at the door.
Continue reading →