Turned in what will be December's edition of my Locus review column. Squeezed in 27 stories.* (Wow, that's three already!) I ran out of room to cover these tales below, but I also had been intending to recommend some new dark fiction for the witching season, so here you go!



Like many publications, Fireside Fiction Company celebrates the Halloween spirit with dark stories for October (Issue 37). Guest editor Daniel José Older hits home runs with all three. (Hey, live with some baseball metaphors! The Cleveland Indians** are in the World Series.)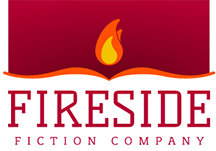 Melissa Moorer offers a creepy urban-legendesque tale with "The Get-Get Man." The eight-year-old narrator is too young for her eloquence, but this is forgivable as her attitude is spot on and the descriptions of the titular character are both poetic and frightening.
Cassandra Khaw cuts close to the bone of dark reality in the near-future fictional world of "Speak" where editors have neural ports and the media doesn't cover mere murders. (Although if a 19-year-old widow had been killed by a "self-propagating, self-modifying virus named Sutee" rather than "roasted alive in a crematory" by her family, it would make tech news.) Very scary future; very scary reflection on now. (BTW: Khaw's become one of my favorite newer writers. I cover her "Hammers on Bone" for Tor.com and a story in The Dark in the Locus column.
Takes a really good piece of flash fiction to impress me, and Alyssa Wong (another new-ish favorite) impresses in the third, quite dark, October story. She does more than tug the heart strings with the encapsulated tragedy and mad science of "Rabbit Heart"—she wrenches those strands without mercy.
And as long as we are looking at Fireside Fiction Company… let's catch up with September's issue (#36):
In the near-future "Emergency Management Protocol," C. C. S. Ryan imaginatively combines a relationship, how we can be isolated even though/because we are well networked, AIs, and a rescue attempt facilitated in part by a technologically advanced dildo. Excellent characterization of the narrator and, all-in-all, quite enjoyable.
"Delta Child" by Malon Edwards is another piece of flash. It's shock-fiction about a guy, child of an experiment gone wrong, turned monstrous. For something so short, it depicts the narrator and even his the briefly seen baby mama well. Still, I'd like to have seen it developed as a more-nuanced, longer tale.
Not exactly horror but certainly gonzo weird: "Homesick" by Sarah Gailey. Crab-like, fortune-telling aliens that freeze as they tell your fortune ("She's staring back at me with those ancient iridescent bug-eyes of hers. They're starting to frost over—her eyelashes are limned with white and it's spreading. She's grinning at me.")… Humanity at home on an alien planet… Earth abandoned… One desperate woman. This story by Gailey is awesomely weird. It twists the whole "alien invasion" trope inside out AND then tips it on its head.Cool stuff.

Covered:
The Dark (10/16 & 11/16)
Tor.com (9/11/16 & 10/11/16)
Uncanny #12 (9-10/16)
Black Static #54 (9-10/16)
Nightmare #48 (9/16)
Nightmare #49 (10/16)
And stories from:
Shimmer #33 9/16
Apex Magazine #89 (10/16)
Beneath Ceaseless Skies #209 (10/16)
Strange Horizons (10/3/16)
**Go Tribe! The kids are all right! This team! Wow!