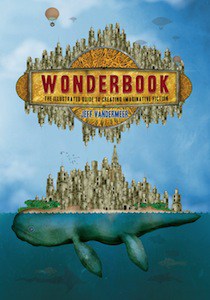 Interested in writing and/or editing? Here's a link to a unique Editors' Roundtable that features general and specific comments on a promising story from some of the most respected editors in the field: Paula Guran, Ellen Datlow, Gardner Dozois, Liz Gorinsky, James Patrick Kelly, Nick Mamatas, Ann VanderMeer, and Sheila Williams." It has been published as part of the "celebration" of the release of the expanded, revised edition of Wonderbook: The Illustrated Guide to Creating Imaginative Fiction by Jeff VanderMeer at Wonderbooknow.com. We editors did this over five years ago for the first edition, but I think you can see why it never made it into the book. Great idea, but it is a bit much for a print edition!
Lots of other writing goodies at the site, too. And the book itself is both helpful—if you want to write imaginative fiction—to study and lovely to look at—even if you aren't interested in writing.
- – -
Style Note:
*Why use an apostrophe to make "editors" possessive? Associated Press style would probably not use the apostrophe. The Chicago Manual of Style probably would use the apostrophe. The style question is whether "editors" should be possessive (the roundtable belonging to the editors) and thus take an apostrophe or attributive (it is just a roundtable of editors). How do you decide? In theory, you ask: is possession clearly indicated? Not much help, is it? Okay, are ALL editors included in this roundtable? Mmm, no. So, add the apostrophe.