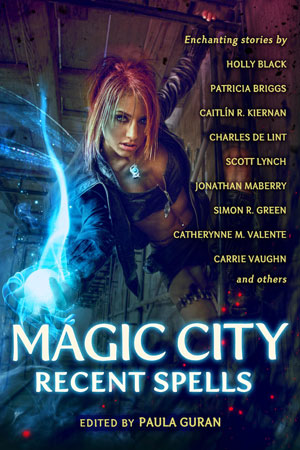 Just a reminder MAGIC CITY: RECENT SPELLS is out and has been a few weeks. Have you nought yours yet?
As an editor, I try not to complain much about anything readers say or do. Everyone is entitled to an opinion. But I have to admit I am getting very tired of people who complain an anthology like this is…SHOCK!…all reprints. It is made plain by the description on the book that these are some of the best stories from recent years on the theme. And yes, you may have read a few of them before. But I can bet that the average reader has not read ALL of the two dozen included, not even the majority.
On the positive side, more perspicacious readers seem to delight in finding "new" (to them) authors to make note of. And maybe contented readers don't post as much as those who aren't.
Before you think I'm being a little too cranky here…there are complaints every time a "year's best" comes out! OMG, it's a book of some of the outstanding stories from the year before and readers are complaining they are reprints? Yes, they do. Oy.