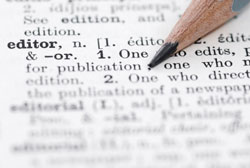 Editors, even nowadays, seldom have much of a public presence. Magazine editors and anthologists are somewhat better known than novel editors, and can more regularly be found on panels at genre conventions and the like.
Yet, here we are with websites and blogs and social media "presence"… more and more. As far as I know, Ellen Datlow was the first short form editor to have her own website… but then again she also was fiction editor for the first major professional print magazine, OMNI, to go online. Unless it was Jonathan Strahan, who went online in 1999, but more as a critic/reviewer at the time than an editor. (Although he had edited two Year's Best Australian Science Fiction and Fantasy volumes.) And, yeah, before I was any sort of editor, what was then "DarkEcho's Horror Web" went live (at http://w3.gwis.com/~prlg) in mid-December of 1995. (I think I was thrilled to find links to maybe fifty horror authors at the time.)
But among current relatively well-known short form SF/F editors you still will find no websites for folks like Asimov's editor Sheila Williams, The Magazine of Fantasy & Science Fiction's Gordon Van Gelder, or the grandmaster of anthologists (and other editing) Gardner Dozois.
[Quick! No checking encyclopedias or even Amazon... Name the the editor of first "year's best" science fiction series. Hint: The Best Science Fiction Stories, published in 1949. Quick! What was and who edited the The first notable paperback anthology (1943)?]
But those who edit even the most famous novelists? Quick! Name Neil Gaiman's editor! No cheating/googling (agents and avid readers of Publishers Marketplace should not play the game). Hint: She also edits Tim Powers, Neal Stephenson, Terry Pratchett, and, before their deaths, Ray Bradbury and Isaac Asimov…and I don't know who else you might immediately recognize. How about George R.R. Martin's A Song of Ice and Fire series editor? Who acquired Jim Butcher's first Dresden books? You won't even find Wikipedia articles on them.
And even if you know some editorial names, few people really know what editors (of different varieties) do. Writers write… not an easy task, even though the public seems to think writing is not only easy, but consistently lucrative.
(I'll pause while you writers pick yourselves up after rolling-on-the-floor laughter.)
Anyway, there's at least some conception of writing. But editing?
I'll leave it as a mystery for now… but I will supply the answers to the questions I inserted above:
Editor(s) of first "year's best" science fiction series: Everett F. Bleiler T.E. Dikty and E.F.
First notable paperback anthology? The Pocket Book of Science-Fiction, edited by Donald A Wollheim
Editor, Gaiman, etc.: Jennifer Brehl
Editor, GRRM: Ann Groell
Editor, first Dresden books: Jennifer Heddle