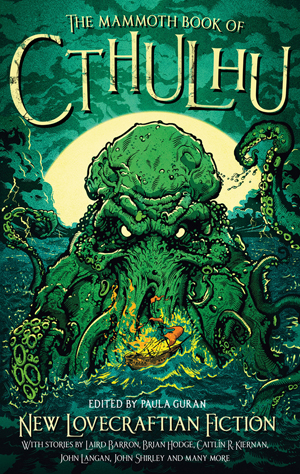 UK: 16 April 2016
Publisher: Robinson(14 April 2016)
496 pages
Language: English
ISBN-10: 1472120035
ISBN-13: 978-1472120038
UK Kindle Ebook
US: May 24, 2016
Publisher: Running Press
ISBN-10: 0762456205
ISBN-13: 978-0762456208
An outstanding anthology of original stories inspired by H. P. Lovecraft from authors who do not merely imitate, but re-imagine, re-energize, and renew his concepts in ways relevant to today's readers. Fresh new fiction that explores our modern fears and nightmares. From the depths of R'lyeh to the heights of the Mountains of Madness, some of today's best weird fiction writers—both established award-winning authors and exciting new voices—THE MAMMOTH BOOK of CTHULHU collects tales of cosmic horror that traverse terrain created by Lovecraft and create new eldritch geographies to explore . . .

CONTENT
"In Syllables of Elder Seas" by Lisa L. Hannett
"The Peddler's Tale, or, Isobel's Revenge" by Caitlín R. Kiernan
"It's All the Same Road in the End" by Brian Hodge
"Caro in Carno" by Helen Marshall
"The Cthulhu Navy Wife" by Sandra McDonald
"Those Who Watch" by Ruthanna Emrys
"A Clutch" by Laird Barron
"Just Beyond the Trailer Park" by John Shirley
"The Sea Inside" by Amanda Downum
"Outside the House, Watching for the Crows" by John Langan
"Alexandra Lost" by Simon Strantzas
"Falcon-and-Sparrows" by Yoon Ha Lee
"A Shadow of Thine Own Design" by W. H. Pugmire
"Backbite" by Norman Partridge
"In the Ruins of Mohenjo-Daro" by Usman T. Malik
"Legacy of Salt" by Silvia Moreno-Garcia
"I Do Not Count the Hours" by Michael Wehunt
"An Open Letter to Mister Edgar Allan Poe, from a Fervent Admirer" by Michael Shea
"I Dress My Lover in Yellow" by A. C. Wise
"Deep Eden" by Richard Gavin
"The Future Eats Everything" by Don Webb
"I Believe That We Will Win" by Nadia Bulkin
"In the Sacred Cave" by Lois H. Gresh
"Umbilicus" by Damien Angelica Walters
"Variations on Lovecraftian Themes" by Veronica Schanoes
Notes:
There is an earlier version of the cover on display in various places online (including US Amazon). This is the correct cover. You can click the image here to see larger version.
I do not have copies as yet (and neither do the authors). There are no ARCs. I should be receiving some UK print editions to send out as review copies. Right now I can currently provide an unproofed PDF to bona fide reviewers only. Email me at paula@prime-books.com
Yes, it is over 150,000 words of ORIGINAL FICTION not REPRINTS.
It seems as if this were finished aeons ago...