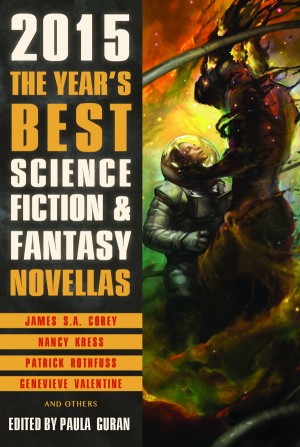 The Year's Best Science Fiction and Fantasy Novellas: 2015
inaugurates a new annual series of anthologies featuring some of the year's best novella-length science fiction and fantasy. Novellas, longer than short stories but shorter than novels, are a rich and rewarding literary form that can fully explore tomorrow's technology, the far reaches of the future, thought-provoking imaginings, fantastic worlds, and entertaining concepts with the impact of a short story and the detailed breadth of a novel. Gathering a wide variety of excellent SF and fantasy, this anthology of "short novels" showcases the talents of both established masters and new writers.
Contents (alphabetical order by author last name):
"In Her Eyes" by Seth Chambers (The Magazine of Fantasy & Science Fiction, Jan/Feb 2014)
The Churn: An Expanse Novella by James S. A. Corey (Orbit)
"Where the Trains Turn" by Pasi Ilmari Jääskeläinen (translated by Liisa Rantalaiho) (Tor.com, 15 November 2014)
Yesterday's Kin by Nancy Kress (Tachyon Publications)
"Claudius Rex" by John P. Murphy (Alembical 3: A Distillation of Three Novellas, eds. Schoen & Dorrance)
"The Things We Do For Love" by K. J. Parker (Subterranean Press Magazine, Summer 2014)
"The Mothers of Voorhisville" by Mary Rickert, (Tor.com, 30 Apr 2014)
"The Lightning Tree" by Patrick Rothfuss (Rogues, eds. Martin & Dozois)
Dream Houses by Genevieve Valentine (Dream Houses WSFA/ Wyrm Publishing)
Publishers Weekly Review:
Longtime editor Guran (The Year's Best Dark Fantasy & Horror 2015) makes a thoughtful selection of nine novellas in this high-quality anthology, which skews toward fantastical crime fiction. James S.A. Corey's "The Churn" reads like a futuristic version of The Wire and is instantly accessible even to readers who aren't familiar with Corey's Expanse series. The blend of noir and science fiction is near perfect, with a Baltimore-based gangster, whose decision to eschew his upper-class background and instead work in a criminal enterprise highlights the division between classes, and a pervasive lyric melancholy—one character life is described as "a fabric woven of losses." Fans of the brilliant sedentary detective Nero Wolfe will be hard-pressed to find a better emulation than John P. Murphy's "Claudius Rex," narrated by an Archie Goodwinesque legman who reluctantly partners with the eponymous AI; the story comes complete with Wolfe's disdain for slang and his desire to reveal his brilliance before a classic gathering of the murder suspects. The other contributions range from epic fantasy to a classic alien invasion with a twist, and all are solid selections.