The Year's Best Science Fiction and Fantasy Novellas: 2016
Edited by Paula Guran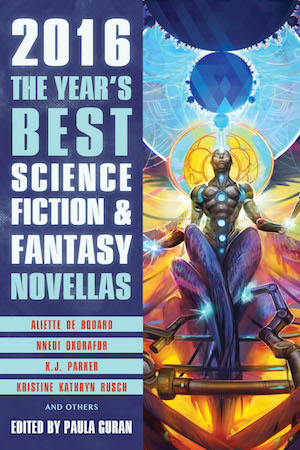 The second volume of Prime Books' annual anthology series collecting some of the year's best novella-length science fiction and fantasy. Novellas, longer than short stories but shorter than novels, are a rich rewarding literary form that can fully explore tomorrow's technology, the far reaches of the future, thought-provoking imaginings, fantastic worlds, and entertaining concepts with all the impact of a short story as well as the detailed depth of a novel. Gathering a wide variety of excellent science fiction and fantasy, this anthology of "short novels" showcases the talents of both established masters and new writers.
Contents:
"The Citadel of Weeping Pearls" by Aliette de Bodard (Asimov's, Oct/Nov 2015)
"The Bone Swans of Amandale" by C.S.E. Cooney (Bone Swans, Mythic Delirium Books)
"Binti" by Nnedi Okorafor (Binti, Tor.com)
"The Last Witness" by K. J. Parker (The Last Witness, Tor.com)
"Johnny Rev" by Rachel Pollack (F&SF, Jul/Aug 2015)
"Inhuman Garbage," Kristine Kathryn Rusch (Asimov's, March 2015)
"Gypsy," Carter Scholz (F&SF, Nov/Dec 2015)
"The Pauper Prince and the Eucalyptus Jinn" by Usman Malik (The Pauper Prince and the Eucalyptus Jinn, Tor.com)
"What Has Passed Shall in Kinder Light Appear" by Bao Shu, translated by Ken Liu (F&SF, Mar/Apr 2015)
The cover of this year's edition features original art by Julie Dillon!