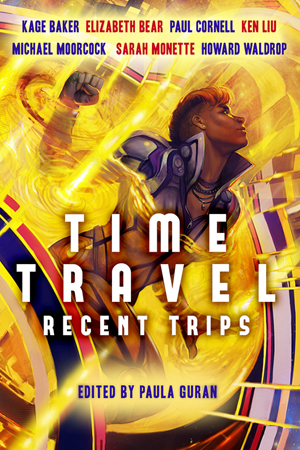 Time Travel: Recent Trips
Edited by Paula Guran
Trade Paperback | 384 pages | $16.95
Prime Books (October 8, 2014)
ISBN-13: 978-1607014348
(Also will be available in ebook)
The idea of time travel has been with us since ancient times; now the concept of time travel seems . . . almost . . . plausible. Today, tales of chrononauts are more imaginative and thought-provoking than ever before: new views, cutting-edge concepts, radical notions of paradox and possibility—state-of-the-art speculative stories collected from those written in the twenty-first century. Forward to the past, back to the future—get ready for some fascinating trips!
CONTENTS (Alphabetically by author):
"The Time Travel Club," Charlie Jane Anders
"Mating Habits of the Late Cretaceous," Dale Bailey
"The Carpet Beds of Sutro Park," Kage Baker
"The Ile of Dogges," Elizabeth Bear & Sarah Monette
"The Ghosts of Christmas," Paul Cornell
"Thought Experiment," Eileen Gunn
"First Flight," Mary Robinette Kowal
"Blue Ink,"Yoon Ha Lee
"The Man Who Ended History: A Documentary," Ken Liu
"The Lost Canal," Michael Moorcock
"The Mists of Time," Tom Purdom
"September at Wall and Broad," Kristine Kathryn Rusch
"Two Shots from Fly's Photo Gallery," John Shirley
"With Fate Conspire," Vandana Singh
"Twember," Steve Rasnic Tem
"Bespoke," Genevieve Valentine
"The King of Where-I-Go," Howard Waldrop
"Number 73 Glad Avenue," by Suzanne J. Willis
Cover art: Julie Dillion