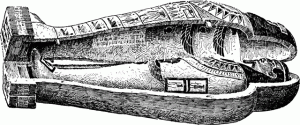 THE MAMMOTH BOOK OF THE MUMMY
Publisher: Constable-Robinson (ISBN: 978-1472120298) February 2017 (UK)
US Publisher TBD Soon
The Mummy Lives!
Our endless fascination with the past is based not only on the impressive remains of ancient monuments and temples, but with the care many cultures—most notably the Egyptian, but others too—devoted to immortalizing their dead. Gaze upon faces of those who died centuries ago—sometimes preserved by accident rather than intent—and experience a wide range of emotions. These enigmatic remains of humanity have inspired creators since the early nineteenth century; literature, film, television, games, and graphic stories all reflect their imaginings. The Mammoth Book of the Mummy presents tales written for the twenty-first century and a few brand-new stories. Some delve into the past, others explore alternative histories, and some bring mummies into our own world. Gasp, sigh, shudder, smile, and occasionally giggle at the magic wrought by these authors who all make the mummy live again.
Contents
The Mammoth Book of the Mummy
25 Tales of the Immortalized Dead
Alphabetical by Author (* indicates original story)
Kage Baker, "The Queen in Yellow"
Gail Carriger, "The Curious Case of the Werewolf That Wasn't, the Mummy That Was, and the Cat in the Jar"
Paul Cornell, "Ramesses on the Frontier"
Terry Dowling, "The Shaddowes Box"
Carole Nelson Douglas, "Fruit of the Tomb"
Steve Duffy, "The Night Comes On"
Karen Joy Fowler, "Private Grave 9"
Will Hill, "Three Memories of Death"
*Stephen Graham Jones, "American Mummy"
John Langan, "On Skua Island"
Joe R. Lansdale, "Bubba-Ho-Tep"
*Helen Marshall, "The Embalmer"
Kim Newman, "Egyptian Avenue"
Norman Partridge, "The Mummy's Heart"
Adam Roberts, "Tollund"
Robert Sharp, "The Good Shabti"
*Anglea Slatter, "Egyptian Revival"
Keith Taylor, "The Emerald Scarab"
Lois Tilton & Noreen Doyle, "The Chapter of Coming Forth by Night"