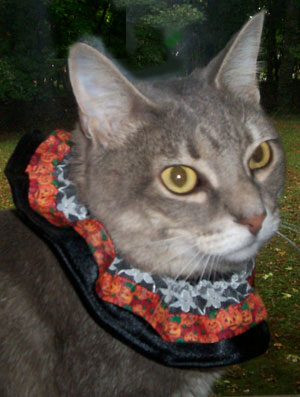 Nala the Official Halloween Cat (although she wasn't too happy about this "costume") has made her selections.
I've messaged a couple of you to get mailing addresses, emailed a couple to make sure I have the right address, and a couple of you I have addresses for. So, whether they want it or not, a copy of HALLOWEEN: MAGIC, MYSTERY & THE MACABRE will soon be sent to:
Terry Lawson
Cynthia Ward
Chris Furst
Laura Bickle
Nisi Shawl
Gary Dulanski
Thanks for sharing about the book or "following" on Twitter!