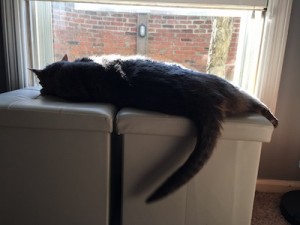 Well, I've been busy. I downsized from a BIG old house (with a lot of STUFF in it) to a smallish apartment. I sold the big house. I settled into the apartment. As you can see from the photo, Nala—although very upset that she can no longer go outside—has also more-or-less settled in.
And I take more time to take care of myself physically these days because I have to. (Better late than never.)
And yes, I'm still looking for that job! I have picked up some freelance work, but it is not regular or sufficient. Someone asked me the other day if I was retired. Uh, no. That will not happen. Have to earn the kitty treats for Nala. I wish, but I am pretty much a poster child for how to not plan your financial life.
Otherwise, right now (among other things) I am finishing up the content for THE YEAR'S BEST DARK FANTASY & HORROR: 2018 Edition (covering fiction from 2017). So, back to work…