The Very Short Bio (About 115 words)
Currently a freelance editor, anthologist, reviewer, and typesetter, Paula Guran was senior editor for Prime Books for seven years. Previously, she edited the Juno fantasy imprint from its small press inception through its incarnation as an imprint of Pocket Books. Guran edits the annual Year's Best Dark Fantasy and Horror series as well as a growing number of other anthologies. (See Books for a list of anthologies, novels, and collections edited.) In an earlier life she produced weekly email newsletter DarkEcho (winning two Stokers, an IHG award, and a World Fantasy Award nomination), edited Horror Garage (earning another IHG and a second World Fantasy nomination), and has contributed reviews, interviews, and articles to numerous professional publications.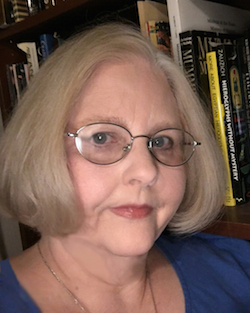 Currently a freelance editor, anthologist, reviewer, and typesetter, Paula Guran was senior editor for Prime Books for seven years. She edited the Juno Books fantasy imprint for six years from its small press inception through its incarnation as an imprint of Simon & Schuster's Pocket Books. Guran is the editor of the annual Year's Best Dark Fantasy and Horror series of anthologies and editor of numerous other anthologies. She also edited Prime's digital imprint Masque Books.
In an earlier life she produced DarkEcho, a weekly email newsletter for horror writers and others, for over six years (1994-2001) and was recognized with two unprecedented back-to-back Bram Stoker Awards for Nonfiction from the Horror Writers Association (1998 and 1999) as well as an International Horror Guild Award (1999) and a World Fantasy Award nomination (1997). She began producing the horror portion of the pioneering professional Web publication OMNI Online in 1996 and became the Literature Editor of Universal Studios' HorrorOnline in October 1998.
She currently reviews short dark fiction for Locus magazine. Previously, she reviewed regularly for Publishers Weekly for over a decade, was review editor for the original print incarnation of Fantasy magazine for a few years (returning in 2009 to edit reviews for its online version), a columnist for Cemetery Dance magazine for five years, and editor for the print section (reviewing, interviewing, and writing articles about sf/f/h) of CFQ (Cinemafantastique) magazine. She served as nonfiction editor for Weird Tales magazine in 2011. She is a member of the National Book Critics Circle.
Guran edited Horror Garage for three years. The print zine, an eccentric mix of original dark fiction and garage/punk/indie music, received an IHG award for Best Publication of 2000 and Guran was honored with a World Fantasy nomination for it in 2002. (Note: She is no longer connected with Horror Garage in any way.) Guran edited the anthology Embraces: Dark Erotica (Venus or Vixen)—termed in a starred review in Publishers Weekly: "Provocative, intelligent, subversive and, above all, artful." It was an IHG nominee as Best Anthology. Her next anthology (for Juno Books) Best New Paranormal Romance, was published six years later. Many more have followed.
Other than publications already mentioned, she has written articles or reviews for Mummies around the World: An Encyclopedia of Mummies in History, Religion, and Popular Culture, The Encyclopedia of Vampires, Icons of Horror, Supernatural Literature of the World, SciFi Magazine, SciFipedia, Locus, Locus Online, Weird Tales, The Third Alternative (UK), Event Horizon, Dark Wisdom, Dead Reckonings, Barnesandnoble.com, Gettingit.com, Mystery Scene, Inklings, SciFiEye, Horror, Pulp Eternity, Cabaret, Tangent, ZENtertainment, The Market List, Heliocentric Net, Into the Darkness, D8, for Writers Digest books, and various convention programmes. Some of her work has been translated into German and Russian.
Other than introductions to anthologies she has edited, Guran authored introductions for the multiple award-winning collection Black Butterflies by John Shirley, anthology Imagination Fully Dilated 2, and Nancy Kilpatrick's collection Cold Comfort. Her essay on the history of Halloween was featured in the award-winning anthology October Dreams: A Celebration of Halloween, edited by Rich Chizmar and Robert Morrish. Her essay "Introduction: A Funny Thing Happened on the Way to Urban Fantasy" appeared in The Urban Fantasy Anthology edited by Peter S. Beagle and Joe R. Lansdale.
She mentored the online PDF magazine The Spook and was a contributing editor for that publication. Guran is the former fiction editor for Gothic.Net and previously edited and published Wetbones, a print magazine of cutting edge dark fiction.
She was award-winning author John Shirley's literary representative from January 1996 until 2013. She also represented Anthony Huso, whose debut novel, The Last Page, was listed as a "Best of 2010″ by Kirkus. (Guran no longer agents.)
Dabs of fiction appeared years ago under pseudonyms for professional webzines and, under her own name, in anthologies Eros Ex Machina and the award-winning 365 Scary Stories.
Guran served as a World Fantasy Award judge in 2001 and administered the a International Horror Guild Awards from 1997 until its demise in 2008. She chaired the Horror Writers Association Bram Stoker Awards Jury for two terms and is a former member of the Board of Trustees.
Guran has moderated and served on panels for the World Fantasy Convention, World Horror Convention, Readercon, SFWorldCon, Wiscon, the Horror Writers Association Annual Meeting, Dragon*Con, Context, MarCon, Death Equinox, and NeCon. Guran has served as Editor Guest of Honor at the World Horror Convention, Context, and MarCon. She's also been interviewed by media including the BBC, NBC-affiliate KVOA, The Cleveland Plain Dealer, and several online and print sources.
She worked for Stealth Press—a publisher of sf/f/h and more—in marketing, as Online Content Editor, and in other capacities. She served as publisher of Writers.com Books and its imprints Infrapress and Cælum Press.
In addition to her publishing duties, Guran worked, taught, and edited for Writers on the Net and produced a
monthly newsletter for them for a dozen years, which garnered her a nomination as Favorite Online Writer for Inscriptions Magazine's 2001 Engraver Awards.