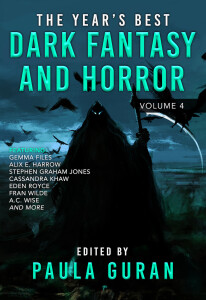 The Year's Best Dark Fantasy & Horror series returns with a splendidly startling fourth volume!
From paranormal plots to stories of the supernatural, tales of the unfamiliar have always fascinated us humans. To keep the tradition alive, fantasy aficionado Paula Guran has gathered the most delightfully disturbing work from some of today's finest writers of the fantastique!
No two mysterious shadows are alike, and the same can be said for the books in this series. The Year's Best Dark Fantasy & Horror, Volume 4 contains more than three hundred pages of mystical fiction. Reader beware and indulge if you dare, because these chilling tales are sure to spook and surprise!
Reviews:
"Recommended for readers who love stories guaranteed to send a frisson of wonder or fear, or both, up their spines. — Library Journal (behind paywall)
"It…felt like these stories made up an important collection, one that should be read and shivered over, not just in the run up to this Halloween, but for Halloweens to come, whenever readers are looking for a wide-ranging collection of stories that go bump in the night…If you're looking for something appropriately spooky and scary to read this Halloween season, The Year's Best Dark Fantasy and Horror: Volume 4—and all of the previous volumes in this series! —are sure to give you just what you're looking for. Especially if you're looking for stories that HAVE to be read with the lights on. (With the reviewer's story by story comments) — Reading Reality