It is, by the way, my FIFTIETH (50!) published anthology.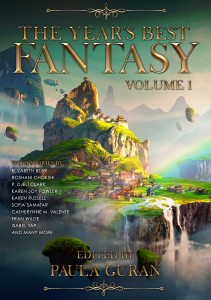 Escape on a journey from the ordinary to the extraordinary with award-winning fantasy editor Paula Guran.
This superbly curated collection explores myth and fable, dark and light—a heroic creature facing a dangerous demon; an earthly love facing the mossy decay of death. With tales of living ball gowns and timid monsters, of modern witches and multidimensional magic, these twenty-four stories will transport you from fantastical realms that push the limits of imagination to alternative realities mirroring much of our own.
Discover bewitchment and wonder, the surreal and the chimerical, in a fantasy anthology representing a diverse array of accomplished talent from around the world . . . and perhaps beyond.
Find places to buy here.
Reviews: