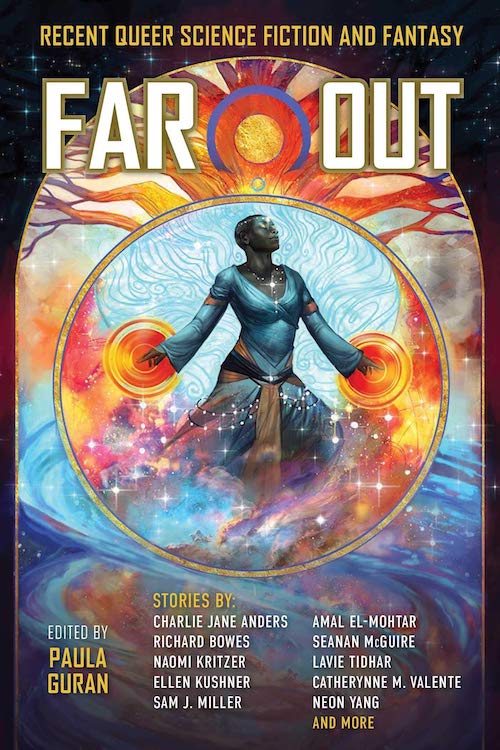 Far Out: An Anthology of Recent Queer Science Fiction and Fantasy
Edited by Paula Guran
Cover art by Julie Dillon
Publisher: Night Shade/Start (May 4, 2021)
Length: 432 pages / Price: $16.99
ISBN13: 9781949102550
Pre-order: https://www.simonandschuster.com/books/Far-Out/Paula-Guran/9781949102550

Speculative fiction imagines drastically diverse ways of being and worlds that are other than the one with which we are familiar. Queerness is a natural fit for such fiction, so one would expect it to be customarily included. That has not always been the case, but LGBTQ+ representation in science fiction and fantasy—in both short and long form—is now relatively common. Even so, most of the queer science fiction and fantasy anthologies published in the last thirty-five years have been narrowly focused: specifically gay male or lesbian (or, more recently, transgender) themes, or all science fiction or all fantasy, or adhering to a specific theme or subgenre.
Far Out: Recent Queer Science Fiction and Fantasy features both science fiction and fantasy short fiction from the last decade and includes characters, perspectives, and stories that span the rainbow. With stories from incredible authors ranging from Seanan McGuire to Charlie Jane Anders to Sam J. Miller, it's an essential read for anyone interested in queer science fiction and fantasy.
Contents
The River's Children by Shweta Narayan
Introduction: Over the Rainbow and into the Far Out by Paula Guran
Destroyed by the Waters by Rachel Swirsky
The Sea Troll's Daughter by Caitlín R. Kiernan
And If the Body Were Not the Soul by A. C. Wise
Imago by Tristan Alice Nieto
Paranormal Romance by Christopher Barzak
Three Points Masculine by An Owomoyela
Das Steingeschöpf by G. V. Anderson
The Deepwater Bride by Tamsyn Muir
The Shape of My Name by Nino Cipri
Otherwise by Nisi Shawl
The Night Train by Lavie Tidhar
Ours Is the Prettiest by Nalo Hopkinson
Don't Press Charges and I Won't Sue by Charlie Jane Anders
Driving Jenny Home by Seanan McGuire
I'm Alive, I Love You, I'll See You in Reno by Vylar Kaftan
In the Eyes of Jack Saul by Richard Bowes
Secondhand Bodies by JY Yang
Seasons of Glass and Iron by Amal El-Mohtar
Né łe! by Darcie Little Badger
The Duke of Riverside by Ellen Kushner
Cat Pictures Please by Naomi Kritzer
The Lily and the Horn by Catherynne M. Valente
Calved by Sam J. Miller
The River's Children by Shweta Narayan