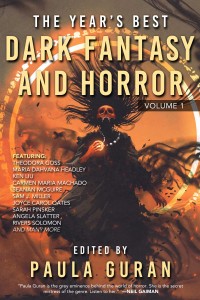 Last year in THE YEAR'S BEST HORROR and DARK FANTASY, VOL. ONE, I included a list of "other recommended" stories. It's something I don't usually do, but I thought I'd give it a shot. The idea is, of course, to bring recognition to some great stories, authors, and publications. Now, as I'm compiling VOLUME TWO, I am wondering if it is a worthwhile undertaking as I got zero feedback on the list from last year. Meanwhile I thought I'd make it public here.
Other Recommendations from 2019
(From The Year's Best Dark Fantasy and Horror, Volume One)
Those with an asterisk (*) are highly recommended.
Novellas
Ballingrud, Nathan: "The Butcher's Table" (Wounds: Six Stories From the Border of Hell)
Bear, Elizabeth: "A Time to Reap" (Uncanny #31)
Bestwick, Simon: "And Cannot Come Again" (And Cannot Come Again)*
Clark, P. Djèlí: The Haunting of Tram Car 015
Cooney, C. S. E.: Desdemona and the Deep
Langan, John: "Natalya, Queen of the Hungry Dogs" (Echoes: The Saga Anthology of Ghost Stories, ed. E. Datlow)
Moore, Tegan: A Forest, or a Tree (Tor.com)
Sharma, Priya: Ormeshadow*
Smith, Michael Marshall: "The Burning Woods" (I Am the Abyss)*
Solomon, Rivers (based on the song by Daveed Diggs, William Hutson & Jonathan Snipes): The Deep
Tantlinger, Sara: To Be Devoured
Warren, Kaaron: Into Bones Like Oil*
Wise, A. C.: Catfish Lullaby
Stories
Aliyu, Rafeeat: "58 Rules to Ensure Your Husband Loves You Forever" (Nightmare #77)
Arkenberg, Megan: "It Is Not So, It Was Not So" (The Dark #51)
Arkenberg, Megan: "The Night Princes" (Nightmare #81)
Barnes, Steven, and Tananarive Due: "Fugue State" (Apex #120)
Bear, Elizabeth: "Lest We Forget" (Uncanny #28)
Bermudez, Amanda J.: "Totenhaus" (Black Static #68)
Bestwick, Simon: "Below" (Terror Tales of Northwest England, ed. P. Finch)
de Bodard, Aliette: "A Burning Sword for Her Cradle" (Echoes: The Saga Anthology of Ghost Stories, ed. E. Datlow)
Braum, Daniel: "How to Stay Afloat When Drowning" (Pareidolia, eds. J. Everington & D. Howarth)
Broaddus, Maurice: "The Migration Suite: A Study in C Sharp Minor" (Uncanny #29)
Bruce, Georgina: "The Lady of Situations" (The Lady of Situations)
Buckell, Tobias S.: "N-Coin" (Apex #120)
Carroll, Siobhan: "The Air, the Ocean, the Earth, the Deep " (Echoes: The Saga Anthology of Ghost Stories, ed. E. Datlow)
Carroll, Siobhan: "For He Can Creep" (Tor.com)
Cataneo, Emily B.: "The Longest Night" (Black Static #72)*
Chan, L.: "The House Wins in the End" (The Dark #50)
Chronister, Kay: "Roiling and Without Form" (Black Static #68)
Chronister, Kay: "Thin Places" (The Dark #50)
Cisco, Michael: "Their Silent Faces" (Spirits Unwrapped, ed. D. Braum)
Coen, Pip: "Second Skin" (F&SF, May/June 2019)
Coles, Donyae: "Breaking the Waters" (PseudoPod 666)
Das, Indrapramit: "A Shade of Dusk" (Echoes: The Saga Anthology of Ghost Stories, ed. E. Datlow)
DeLucci, Theresa: "Cavity" (Strange Horizons 7/8/19)
DeMeester, Kristi: "A Crown of Leaves" (Black Static #70)
DeMeester, Kristi: "A Song for Wounded Mouths" (PseudoPod 64)
Dines, Steven J.: "Pendulum" (Black Static #70)
Elison, Meg: "Hey Alexa" (Do Not Go Quietly, eds. J. Sizemore & L. Conner)
Files, Gemma: "The Puppet Motel" (Echoes: The Saga Anthology of Ghost Stories, ed. E. Datlow)*
Ford, Jeffrey: "The Jeweled Wren" (Echoes: The Saga Anthology of Ghost Stories, ed. E. Datlow)
Ford, Jeffrey: "Sisyphus in Elysium" (The Mythic Dream, eds. D. Parisien & N. Wolfe)
Fu, Angela: "Tansy" (The Dark #44)
Gardner, Cate: "The Mute Swan" (Terror Tales of Northwest England, ed. P. Finch)
Goodfellow, Cody: "Massaging the Monster" (Black Static #70)
Goss, Theodora: "A Country Called Winter" (Snow White Learns Witchcraft)
Goss, Theodora: "How to Become a Witch-Queen" (Hex Life: Wicked New Tales of Witchery, eds. C. Golden & R. A. Deering)
Greenblatt, A. T.: "Before the World Crumbles Away" (Uncanny #27)
Hodge, Brian: "One Last Year Without a Summer" (Skidding Into Oblivion)
Howard, Kat: "Curses Like Words, Like Feathers, Like Stories" (The Mythic Dream, eds. D. Parisien & N. Wolfe)
Howard, Kat: "An Invitation to a Burning" (Hex Life: Wicked New Tales of Witchery, eds C. Golden & R. A. Deering)
Huang, S.L.: "As the Last I May Know" (Tor.com)
Huerta, Lizz: "The Wall" (A People's Future of the United States, eds. V. LaValle & J. J. Adams)
Johnstone, Carole: "Deep, Fast, Green" (Echoes: The Saga Anthology of Ghost Stories, ed. E. Datlow)*
Johnstone, Carole: "Skinner Box" (Tor.com)
Johnstone, Tom: "The Wakeman Recreation Ground" (Last Stop Wellsbourne)*
Jones, Stephen Graham: "This Was Always Going to Happen" (Terror at 5280', ed. Anonymous)*
Jones, Stephen Graham:"The Tree of Self-Knowledge" (Echoes: The Saga Anthology of Ghost Stories, ed. E. Datlow)
Kim, Alice Sola: "Now Wait for This Week" (The Cut 1/17/19)*
Laben, Carrie: "The Crying Bride" (The Dark #45)*
Langan, Sarah: "The Night Nurse" (Hex Life: Wicked New Tales of Witchery, eds. C. Golden & R. A. Deering)*
Lansdale, Joe R.: "The Senior Girls Bayonet Drill Team" (At Home in the Dark, ed. L. Block)*
Lauryn, Inda: "Dustdaughter" (Uncanny #26)
Leckie, Ann: "The Justified" (The Mythic Dream, eds. D. Parisien & N. Wolfe)
Lewis, L.D.: "Moses" (Anathema 4/19)
Lewis, L.D.: "Signal" (Fireside 8/19)
Liburd, Tonya: "Bootleg Jesus" (Diabolical Plots 6/17/19)
Lore, Danny: "Fare" (Fireside 8/19)
Lombardi, Nicola: "Striges" (The World of SF, Fantasy and Horror, Vol. IV, ed. R. N. Stephenson)
Lothian, Jack: "They Are Us (1964): An Oral History" (Twice-Told: A Collection of Doubles, ed. C. M. Muller)
Lu, S. Qiouyi: "As Dark as Hunger" (Black Static #72)*
Mauro, Laura: "In the City of Bones" (Sing Your Sadness Deep)
Mauro, Laura: "The Pain-eater's Daughter" (Sing Your Sadness Deep)
McHugh, Maura: "The Boughs Withered: When I Told Them My Dreams" (The Boughs Withered When I Told Them My Dreams)
Miller, Sam J.: "Shucked" (F&SF, Nov/Dec 2019)
Mills, Samantha: "Adrianna in Pomegranate" (Beneath Ceaseless Skies, 2/19)
Mondal, Mimi: "Malotibala Printing Press" (Nightmare #80)
Morrow, James: "Bird Thou Never Wert" (F&SF, Nov/Dec 2019 )
Ness, Mari: "The Girl and the House" (Nightmare #79)
Ogden, Aimee: "Blood, Bone, Seed, Spark" (Beneath Ceaseless Skies #271)
Ogle, L'Erin: "The Girls Who Come Back Are Made of Metal and Glass" (Metaphorosis 6/28/19)*
Okungbawa, Suyi Davies: "Dune Song" (Apex #120)
Okungbawa, Suyi Davies: "The Haunting of 13 Olúwo Street" (Fireside 10/19)
Osahon, Ize-Iyamu: "Therein Lies a Soul" (The Dark #49)
Palmer, Suzanne: "The Painter of Trees" (Clarkesworld 6/19)
Perry, Steve: "I'm With the Band" (Pop the Clutch, ed. E. J. Guignard)
Peterfreund, Diana: "Playscape" (F&SF, Mar/Apr 2019)*
Pueyo, H.: "An Open Coffin" (The Dark #47)
Read, Sarah: "The Hope Chest" (Black Static #72)*
Rebelein, Sam: "My Name Is Ellie" (Bourbon Penn 18)
Rickert, M.: "Evergreen" (F&SF, Nov/Dec 2019)
Roanhorse, Rebecca: "A Brief Lesson in Native American Astronomy (The Mythic Dream, eds. D. Parisien & N. Wolfe)
Saab, Sara: "The Wiley" (The Dark #48)
Sen, Nibedita: "We Sang You as Ours" (The Dark #49)
Shearman, Robert: "I Say (I Say, I Say)" (Tales from the Shadow Booth: Vol. 3, ed. D. Coxon)
Sheil, Steven: "The Touch of Her" (Black Static #70)
Slatter, Angela: "Widows' Walk" (Hex Life: Wicked New Tales of Witchery, eds C. Golden & R. A. Deering)
Slatter, Angela: "Wilderling" (The Dark #48)*
Srinivasan, Shalini: "Road: A Fairy Tale" (Strange Horizons 5/20/19)
Strantzas, Simon: "Antripuu" (Nightmare #82)
Stufflebeam, Bonnie Jo: "Every Song Must End" (Uncanny #27)
Swanwick, Michael: "Ghost Ships" (F&SF, Sept/Oct 2019)
Swirsky, Rachel, and P. H. Lee: "Compassionate Simulation" (Uncanny #29)
Tem, Steve Rasnic: "Snowmen" (Everything Is Fine Now)
Tem, Steve Rasnic: "A Sudden Event" (The Night Doctor and Other Tales)
Tem, Steve Rasnic: "The Woman in the Attic" (Everything Is Fine Now)
Theodoridou, Natalia: "The Summer Is Ended and We Are Not Saved" (Black Static #70)
Tremblay, Paul: "Ice Cold Lemonade 25¢ Haunted House Tour: 1 Per Person" (Echoes: The Saga Anthology of Ghost Stories, ed. E. Datlow)
Watt, D. P.: "Our Second Home" (Petals & Violins)
Westlake, Jack: "Looking" (Black Static #72)
Westlake, Jack: "Pomegranate Pomegranate" (Black Static #69)
White, Gordon B.: "Birds of Passage" (PseudoPod 663)
Wise, A. C.: "The Ghost Sequences" (Echoes: The Saga Anthology of Ghost Stories, ed. E. Datlow)
"How the Trick Is Done" (Uncanny #29)
Wolfmoor, Merc Fenn: "Sweet Dreams Are Made of You" (Nightmare #84)
Yap, Isabel: "Windrose in Scarlet" (Lightspeed 10/19)
Zahabi, Rebecca: "It Never Snows in Snowtown" (F&SF, Nov/Dec 2019)*