The official publication date for The Year's Best Fantasy, Volume 2 was Tuesday, August 15th! Meanwhile, Bookreporter has featured it and Publishers Weekly gave it a starred review.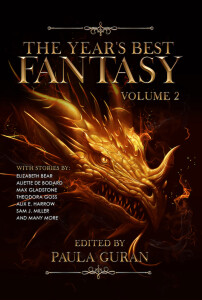 Prepare to embark on yet another fantastic adventure with award-winning fantasy editor Paula Guran.

Delve into realms that exceed the limits of your imagination and embrace the surreal! Enjoy over 400 pages of tales ranging from wonderful to wicked. From lore and legends to myths and fables of alternative realities, you will discover bewitchment with the turn of every page.

The Year's Best Fantasy, Volume 2 has something for every fantasy lover, representing a diverse array of accomplished talent from around the world, and perhaps beyond.
The Year's Best Fantasy, Volume 2
ISBN-13:9781645060499
Publisher: Pyr
Pages: 406